Conjunctival Autograft with Mitomycin C (MMC) in Primary Pterygium Excision
Doi: 10.36351/pjo.v39i4.1731
Abstract
Purpose:  To evaluate role of conjunctival Autograft (CAG) with Mitomycin C (MMC) in primary pterygium excision.
Place and Duration of Study:  Mughal eye hospital Lahore from 2020 to 2022.
Methods:  Patients with primary pterygium were operated. Pterygium excision was followed by Mitomycin C (MMC) 0.02% application for 2 minutes under the conjunctiva at base of the pterygium and this was followed by CAG. Patients were followed up at 1 week, 1 month and 2 months to see recurrence and any side effects of MMC. Google sheets were used for recording data of pterygia.
Results:  A total of 385 eyes of 316 patients with primary pterygium were included in the study. There were 209 males and 107 females. Mean age was 35 years (range 26 to 58 years). Follow up ranged from one month to 2 months. Four eyes (1%) had recurrence. It was noted that blood vessels of recurrent pterygium grew above or below the conjunctival graft on the side which was short. No complication of MMC was observed. There were 2 cases of graft dehiscence due to early breakdown of sutures.
Conclusion:  Recurrence after pterygium excision can be reduced to minimum by application of MMC with CAG and it is a safe procedure. Recurrence mostly encroaches on the cornea from above or below the conjunctival graft. A large conjunctival graft is thus necessary to cover the pterygium area and prevent recurrence. MMC is safe. Suturing the conjunctival graft provides minimum chances of graft loss.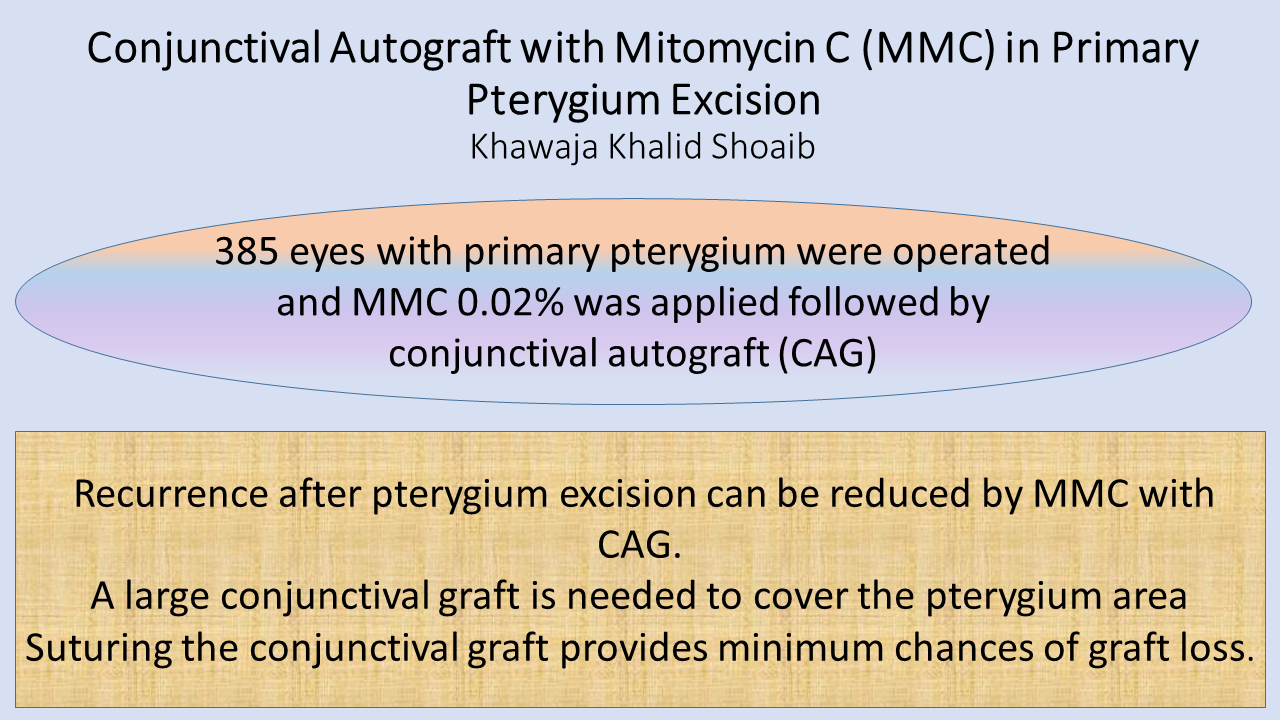 Downloads
How to Cite
1.
Shoaib KK. Conjunctival Autograft with Mitomycin C (MMC) in Primary Pterygium Excision: Doi: 10.36351/pjo.v39i4.1731. pak J Ophthalmol [Internet]. 2023 Sep. 29 [cited 2023 Dec. 9];39(4). Available from: https://pjo.org.pk/index.php/pjo/article/view/1731
Section
Original Articles
License
Copyright (c) 2023 -
This work is licensed under a Creative Commons Attribution-NonCommercial 4.0 International License.