Corneal Parameters Measurement in Healthy Subjects Using Scheimpflug and Anterior Segment Optical Coherence Tomography
Doi: 10.36351/pjo.v39i4.1666
Abstract
Purpose:  To compare the central corneal thickness (CCT),minimum corneal thickness (MCT) and corneal power measured using theScheimpflug-Placido device and optical coherence tomography (OCT) in healthy eyes.
Study Design:  Descriptive observational.
Place and Duration of Study:  Al-Kindy college of medicine/university of Baghdad, from June 2021 to April 2022.
Methods:  A total of 200 eyes of 200 individuals were enrolled in this study. CCT and MCT measurements were carried out using spectral-domain optical coherence tomography (Optovue) and a Scheimpflug-Placido topographer (Sirius).The agreement between the two approaches was assessed using Bland-Altman analysis in this study.
Results:  Mean age was 28.54 ± 6.6 years, mean spherical equivalent of refraction was -3.57 ± 3.35 D. Mean CCT by Optovue, and Sirius were534.13 ± 27.88 μm, and 540.2 ± 27.85μm, respectively.Mean CCT differences between them were -6.070± 6.593 μm, (p < 0.05). Minimum thickness by Optovue was 526.79 ± 27.81, and by Sirius was 537.44 ± 27.56, mean difference between the two devices was 10.66 ± 6.89,p= 0.00. The net power by OCT was 43.44 ± 1.456, mean K by Sirius was 43.597 ± 1.408, with p=0.000. Maximum level of agreement between the two devices is -18.99 to 6.85 for CCT, is widest for minimum thickness -24.166 to 2.85 and narrowest for differences between net corneal power by OCT and mean K By Sirius is -0.87 to 1.18.
Conclusion:  In clinical practice, the two devices cannot be used interchangeably. CCT and keratometry should be evaluated and followed up using the same device.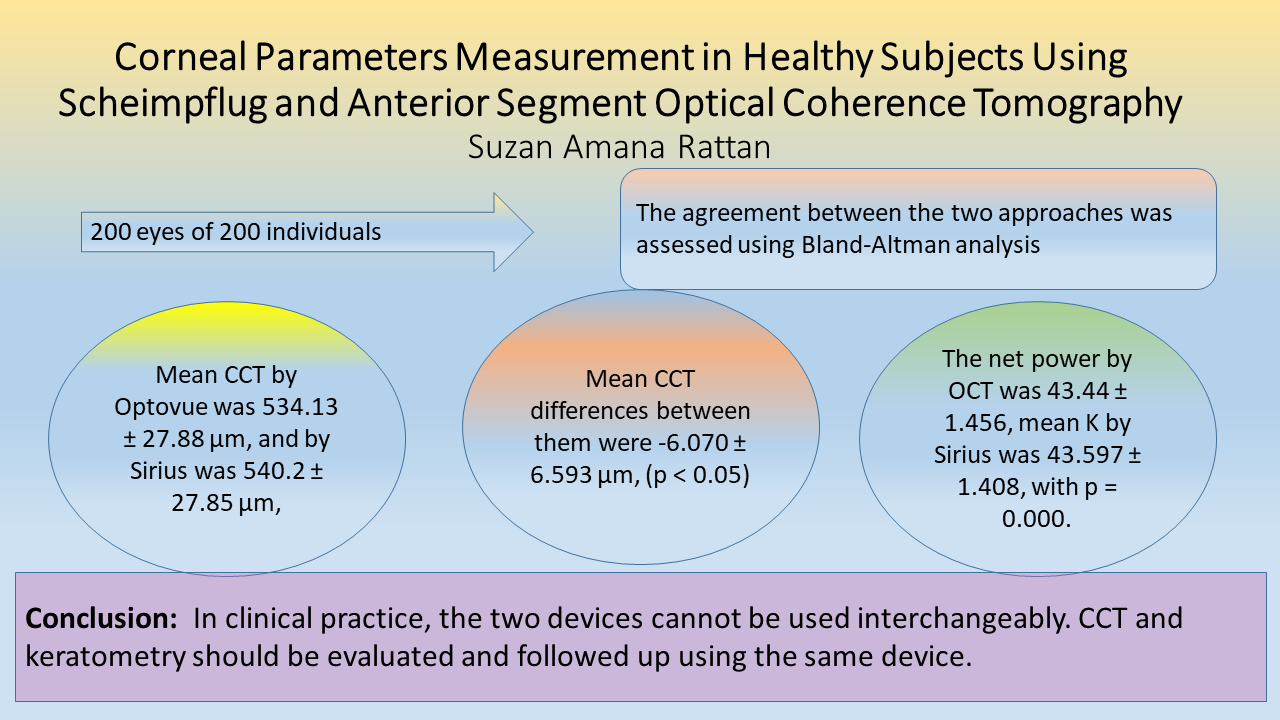 Downloads
How to Cite
1.
Rattan SA. Corneal Parameters Measurement in Healthy Subjects Using Scheimpflug and Anterior Segment Optical Coherence Tomography: Doi: 10.36351/pjo.v39i4.1666. pak J Ophthalmol [Internet]. 2023 Sep. 29 [cited 2023 Dec. 9];39(4). Available from: https://pjo.org.pk/index.php/pjo/article/view/1666
Section
Original Articles
License
Copyright (c) 2023 -
This work is licensed under a Creative Commons Attribution-NonCommercial 4.0 International License.