VisualAcuity Threshold for CataractsSurgeryat a Tertiary Eye Center in Iraq
Doi: 10.36351/pjo.v39i4.1659
Abstract
Purpose:  To find out threshold of visual acuity for cataract surgery at a tertiary eye center of Iraq.
Study Design:  Descriptive observational.
Place & Duration of Study:  Ibn Al-Haitham Teaching Eye Hospital during the year 2022.
Methods:  It was a retrospective descriptive study in which 6650 patients who complained of visual impairment due to cataract, 30 to 80 years of age and either gender were included.Any intraocular pathology that leads to visual impairment other than cataract and congenital cataract were excluded. The best corrected visual acuity (BCVA) and the state of the fellow eye was also determined. Visual impairment was defined as mild; 6/9 - 6/18, moderate; 6/24 - 6/36 and severe visual impairment; 6/60 or less.
Results:  Data collected from 6650 cases showed 2625 (39.5%) males and 4025 (60.5%) females. Mild visual impairment was found in 875 (13.15%) patients, moderate was found in 175(2.63%) patients, and severe visual impairment was the most common type in 5250 (78.95%) patients.
Conclusion:  Most of the patients with cataract present late with severe impairment of visual acuity which requires national screening program with extra focuson risk groups. Nonetheless, these results are of potential use to planners of cataract screening outreach programs. It could be regarded as a preliminary study for further larger study on a national level to establish a scheme for patients' diagnosis and referral to cataract surgery to get early diagnosis and shorten the waiting lists.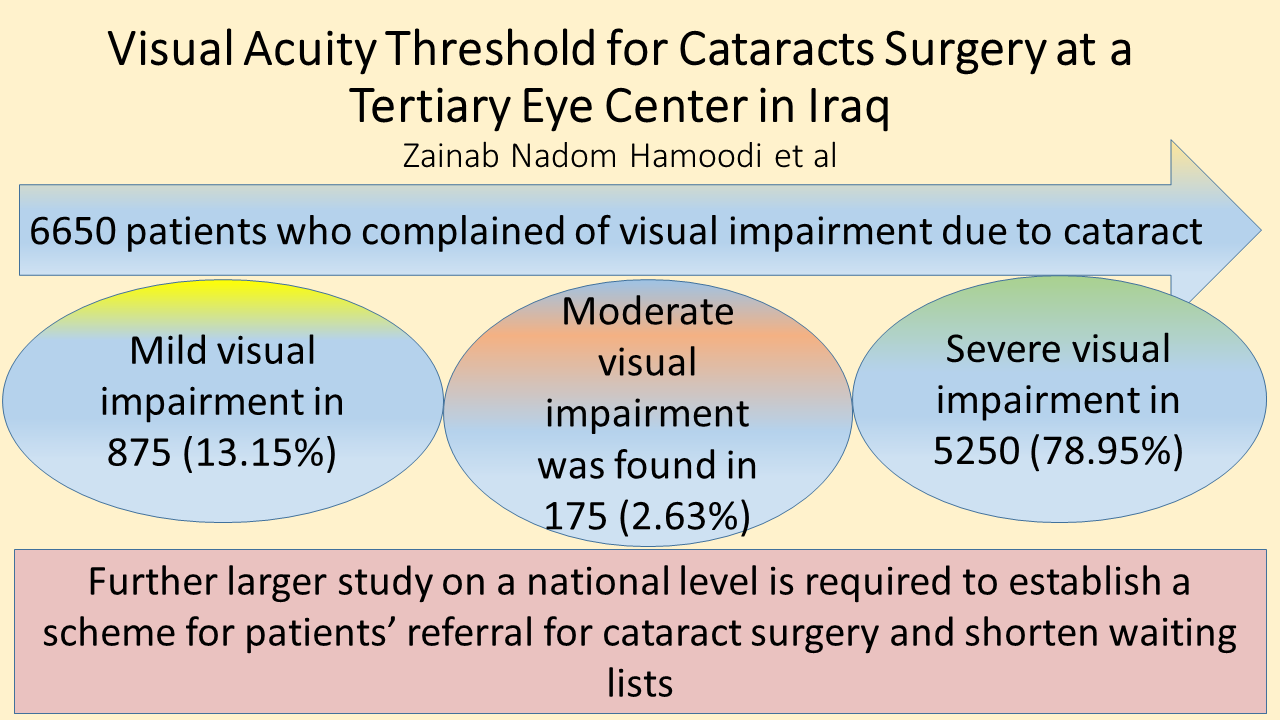 Downloads
How to Cite
1.
Al-Khafaji ZNH, Al Salam MSN. VisualAcuity Threshold for CataractsSurgeryat a Tertiary Eye Center in Iraq: Doi: 10.36351/pjo.v39i4.1659. pak J Ophthalmol [Internet]. 2023 Sep. 29 [cited 2023 Dec. 9];39(4). Available from: https://pjo.org.pk/index.php/pjo/article/view/1659
Section
Original Articles
License
Copyright (c) 2023 -
This work is licensed under a Creative Commons Attribution-NonCommercial 4.0 International License.