Etiology of Congenital Cataract in a Tertiary Hospital, Lahore
Doi: 10.36351/pjo.v39i4.1654
Abstract
Purpose:  To identify the etiology of congenital cataracts in a tertiary care center of Lahore.
Study Design:  Cross-sectional.
Sampling Technique:  Non-probability purposive sampling.
Place and Duration of Study:  Department of pediatric ophthalmology The Children's hospital and Institute of Child Health, Lahore from May 2018-October 2019.
.Methods:  Children one year and younger diagnosed with congenital cataract were included in the study. A detailed ocular examination was done including B-scan. Blood samples of all the infants were tested for presence of specific immunoglobulin M (IgM) and immunoglobulin G (IgG) antibodies by the enzyme-linked immunosorbent assay (ELIZA). Specific blood tests were done to rule out any metabolic disorder. The children were referred to pediatrician for detailed systemic examination. Data were collected, and statistical analysis was done using Excel (Microsoft 2015, version 15.15) and Stata (version 13).
Results:  A total of 384 infants were included in the study. Mean age of the patients was 5.9 ± 5 months. No cause could be identified in 39.06% and familial pattern was seen in 28.12%. Consanguinity was seen in all familial cases. Rubella was found to be the causative agent in 17.7% participants of the study. Associated ocular problem was seen in 89 (23.17%) infants and microphthalmia being the most frequent. Developmental delay was seen in 126 (6.7%) children.
Conclusion:  Congenital cataract represents a complex and challenging ophthalmic condition that may result in significant visual impairment. Early identification and timely intervention are pivotal for achieving a positive visual outcome.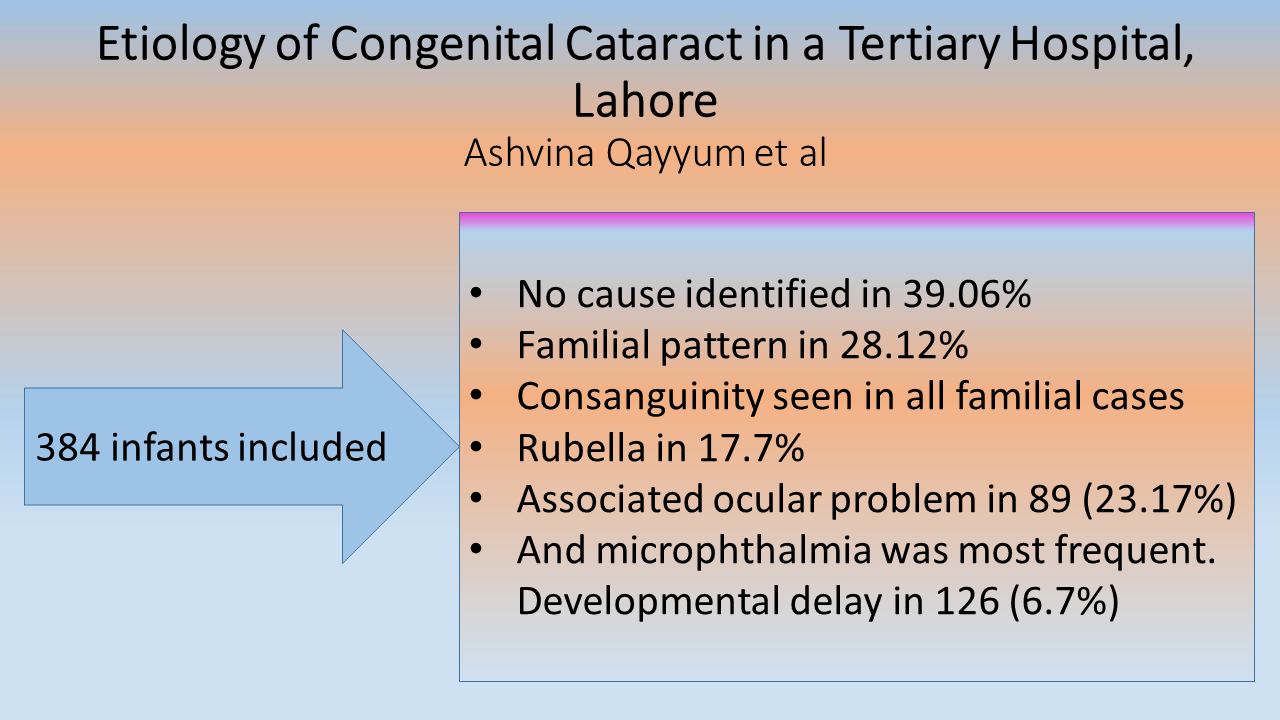 Downloads
How to Cite
1.
Qayyum A, Qayyum S. Etiology of Congenital Cataract in a Tertiary Hospital, Lahore: Doi: 10.36351/pjo.v39i4.1654. pak J Ophthalmol [Internet]. 2023 Sep. 29 [cited 2023 Dec. 9];39(4). Available from: https://pjo.org.pk/index.php/pjo/article/view/1654
Section
Original Articles
License
Copyright (c) 2023 Ashvinah Qayyum, Seema Qayyum
This work is licensed under a Creative Commons Attribution-NonCommercial 4.0 International License.