Sub-conjunctival injection of 5 Fluorouracilversus Bevacizumab in Treatment of Primary Pterygium
Doi:10.36351/pjo.v39i4.1651
Abstract
Purpose:  To compare effectiveness and safety of 5 Fluorouracil versus Bevacizumab as sole therapy in the treatment of primary pterygium.
Study Design:  Quasi-experimental study.
Place and Duration of Study:  Combined Military Hospital Lahore, from January 2022 to January 2023.
Methods:  A total of 64 patients were included and divided into 2 groups of 32 patients each. Group A patients received monthlyinjection of 0.1ml, Fluorouracil(5FU) for 3 months while 3 injections of 0.1ml Bevacizumab were administered in group B. Primary outcome measure was effectiveness (defined as improvement in Pterygiumgrade), at 4 weeks following the administration of last injection. Patients were examined for pterygium grading as well as any side effects of injections on each follow up visit. Data analysis was done bySPSS, Version 23.0.
Results:  Mean age of patients in group A was of 33.53±11.3 yearsversus 30.97±12.6 years in group B with a range of 15–55 years. There were 45 (70.3%) males and 19 (29.7%) females. Improvement was seen in 21 patients (65.6%) in group A, as compared to only 2 (6.3%) in group B. There was a significant difference in pterygium improvement between the two groups (p<0.001).
Conclusion:  5 Fluorouracil is more effective than Bevacizumab as sole therapy in treatment of primary pterygium but equally safe in terms of side effects.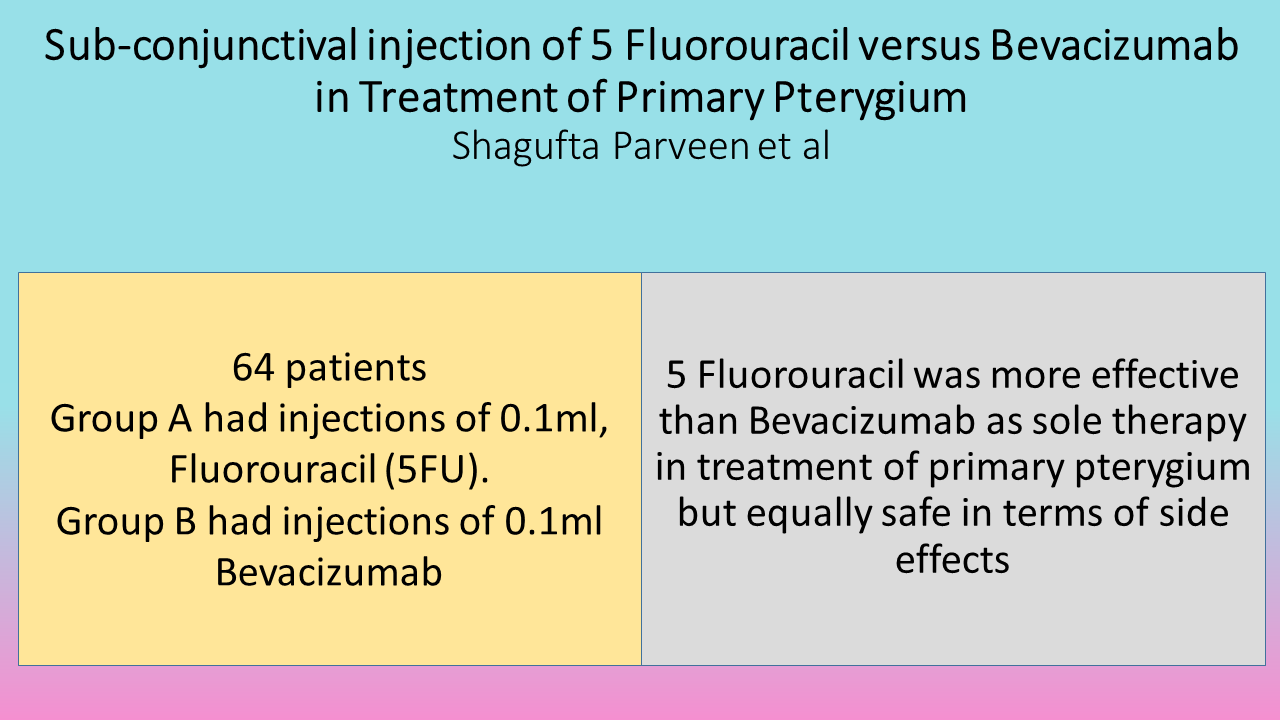 Downloads
How to Cite
1.
Shagufta Parveen, Saquib Naeem, Waqar Muzaffar, Kamran Saeed M, Zaheer-ud-Din Babar. Sub-conjunctival injection of 5 Fluorouracilversus Bevacizumab in Treatment of Primary Pterygium: Doi:10.36351/pjo.v39i4.1651. pak J Ophthalmol [Internet]. 2023 Sep. 29 [cited 2023 Dec. 9];39(4). Available from: https://pjo.org.pk/index.php/pjo/article/view/1651
Section
Original Articles
License
Copyright (c) 2023 Shagufta Parveen, Saquib Naeem, Waqar Muzaffar, Muhammad Kamran Saeed, Zaheer-ud-Din Babar
This work is licensed under a Creative Commons Attribution-NonCommercial 4.0 International License.