Effectiveness 0.05% Atropine for Controlling Myopia Progression in School Going Children
Doi: 10.36351/pjo.v39i4.1608
Abstract
Purpose:  Although there is evidence that Atropine is effective in improving myopia but there is variable response with use of 0.05% concentration. We conducted this study to find mean change in myopia progression after giving 0.05% Atropine to school going children with myopia
Study Design:  Quasi experimental study.
Place and Duration of Study:  Unit-II, Department of Ophthalmology, Mayo Hospital, Lahorefrom 3rdNovember 2020 to 3rd February 2021.
Methods:  One hundred children of 5 to 14 years of age with myopia greater than 0.5 D were selected by consecutive sampling.Patients with other refractive errors, other ocular diseases or ocular surgeries were excluded. Cycloplegic retinoscopy was performed and 0.05% atropine eye drops were advised once at night for 3 months. Cycloplegic retinoscope was performed and change in myopia progression (mean myopia progression rate) was calculated. Paired T-test was applied to calculate significant change in myopia. P-value≤0.05 was taken as significant. Data was stratified for age, gender and duration of myopia.
Results:  Mean age of children was 9.26±2.87 years. There were 40% males and Male-to-female ratio was 1:1.5. Mean duration of myopia was 13.81±6.04 months. Mean myopia at baseline was -1.02±0.30D, which was improved to -0.18±0.44 D after treatment. Mean change in myopia after treatment was -0.84±0.30 D. The change was statistically significant (p<0.05).
Conclusion:  Atropine 0.05% is effective in reducing degrees of myopia and may help in preventing myopia progression in school going children.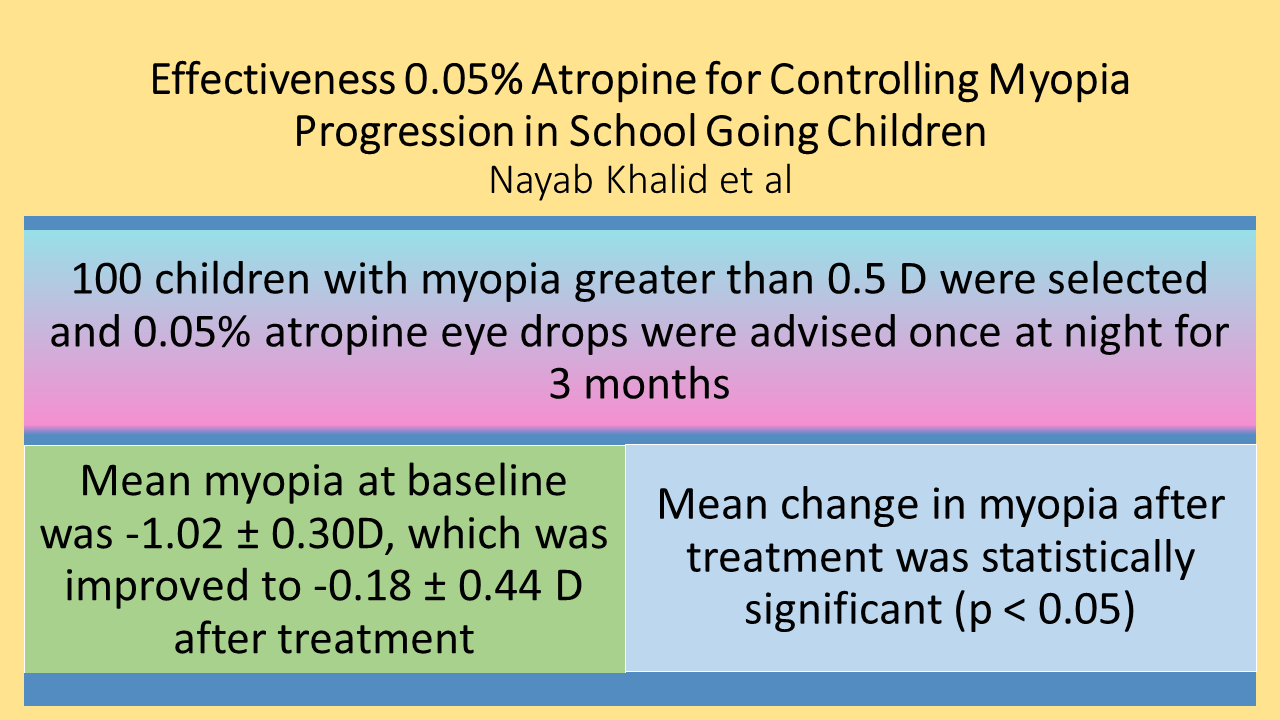 Downloads
How to Cite
1.
Khalid N, Ahmad CN, Muslim I, Komal Javed, Basit A. Effectiveness 0.05% Atropine for Controlling Myopia Progression in School Going Children: Doi: 10.36351/pjo.v39i4.1608. pak J Ophthalmol [Internet]. 2023 Sep. 29 [cited 2023 Dec. 9];39(4). Available from: https://pjo.org.pk/index.php/pjo/article/view/1608
Section
Original Articles
License
Copyright (c) 2023 Nayab Khalid, Chaudhry Nasir Ahmad, Irfan Muslim, Komal Javed, Abdul Basit
This work is licensed under a Creative Commons Attribution-NonCommercial 4.0 International License.