Assessment of the Effectiveness of YouTube inControlling Myopia Progression
Doi: 10.36351/pjo.v39i4.1579
Abstract
Purpose:  Myopia control is important because of the increased risk of complications likeretinal detachment, maculopathy, glaucoma and cataract. Nowadays, people can learn about their diseases on the Internet. Due to the fact thatonline health-related informationis not reliable, theevaluation of the reliability of videos is compulsory. We used four scoring systems to evaluatethe effectiveness of myopia control videos on YouTube.
Study Design:  Online survey.
Methods:  This study included the first 100 YouTube videos that were found after searching for "myopia control" on YouTube.Duration, views, likes, dislikes, and comments were all included in the general video evaluation. Two ophthalmologists independently evaluated the quality of information.The agreement and individual correlations of the data for each video were investigated statistically.
Results:  Ninety-two videos were included in the study. The mean scores for DISCERN, JAMA, global quality score and usefulness were 34.22, 2.63, 2.02, and 1.35 respectively.Fifteen times increased outdoor activity and decreased near work, 52 times multifocal spectacles, 53 times multifocal contact lens, 58 times orthokeratology, and 40 times pharmacological agentswere described as the treatment options. There were 31 videos uploaded by physicians and 24 by universities and private hospitals.
Conclusion:  YouTube lookslike apoor platform according to the scoring system. Especially increased outdoor activity and decreased near work,whichare very important in patient´seducation, were scarcely described.Healthcare professionals should upload more videos, so that the effectiveness and quality of the videos in this area may improve.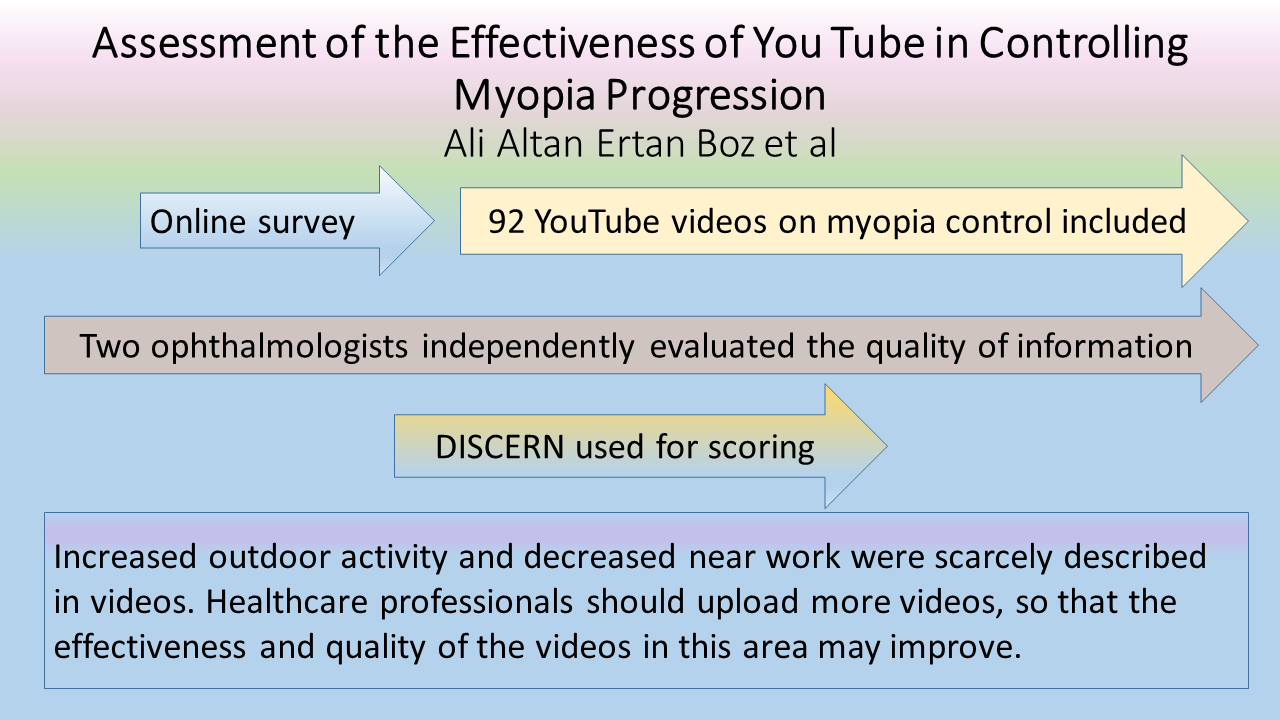 Downloads
How to Cite
1.
Boz AAE, Kocamış S İlker. Assessment of the Effectiveness of YouTube inControlling Myopia Progression: Doi: 10.36351/pjo.v39i4.1579. pak J Ophthalmol [Internet]. 2023 Sep. 29 [cited 2023 Dec. 9];39(4). Available from: https://pjo.org.pk/index.php/pjo/article/view/1579
Section
Original Articles
License
Copyright (c) 2023 -
This work is licensed under a Creative Commons Attribution-NonCommercial 4.0 International License.