Frequency and Outcome of Emergency Oculoplastic Cases with Adaptations in Management during Covid-19 Pandemic
Doi: 10.36351/pjo.v39i4.1485
Abstract
Purpose:  To determine whether treating emergency oculoplastic conditions with protective modification have any effect on treatment outcome visiting tertiary oculoplastic service.
Study Design:  Interventional case series.
Place and Duration of Study:  Department of Ophthalmology, Lady Reading Hospital, from March to September 2020.
Methods:  We included all patients operated during pandemic at oculoplastic service. Protective modifications included; use of loupe instead of surgical microscope, avoidance of General Anesthesia, judicial use of cautery, use of absorbable suture and follow up through phone call and minimum visits.
Results:  A total of 117 patients were eligible with a mean age of 25.399 ± 34.89 years. Majority of the patients were male, 74 (63.2%). The mean follow-up time was 04 months. Satisfactory surgical and functional outcome was seen in 107 (91.5%) patients. There was no statistically significant difference in outcome with reference to gender (p-value of 0.824) and treatment (p-value of 0.168). Similarly, treatment outcome was statistically insignificant (p value 0.342) in different oculoplastic conditions. Unsatisfactory outcome due to various complications was seen in 10 (8.5%) patients at follow up of 01 to 05 months which were then given special treatment at followup.
Conclusion:  With adopted protocols and modifications in techniques, outcome was acceptable in common emergency oculoplastic conditions. Proper follow up through telemedicine was helpful in picking up the complicated cases for timely intervention to get satisfactory outcome during Covid 19 pandemic.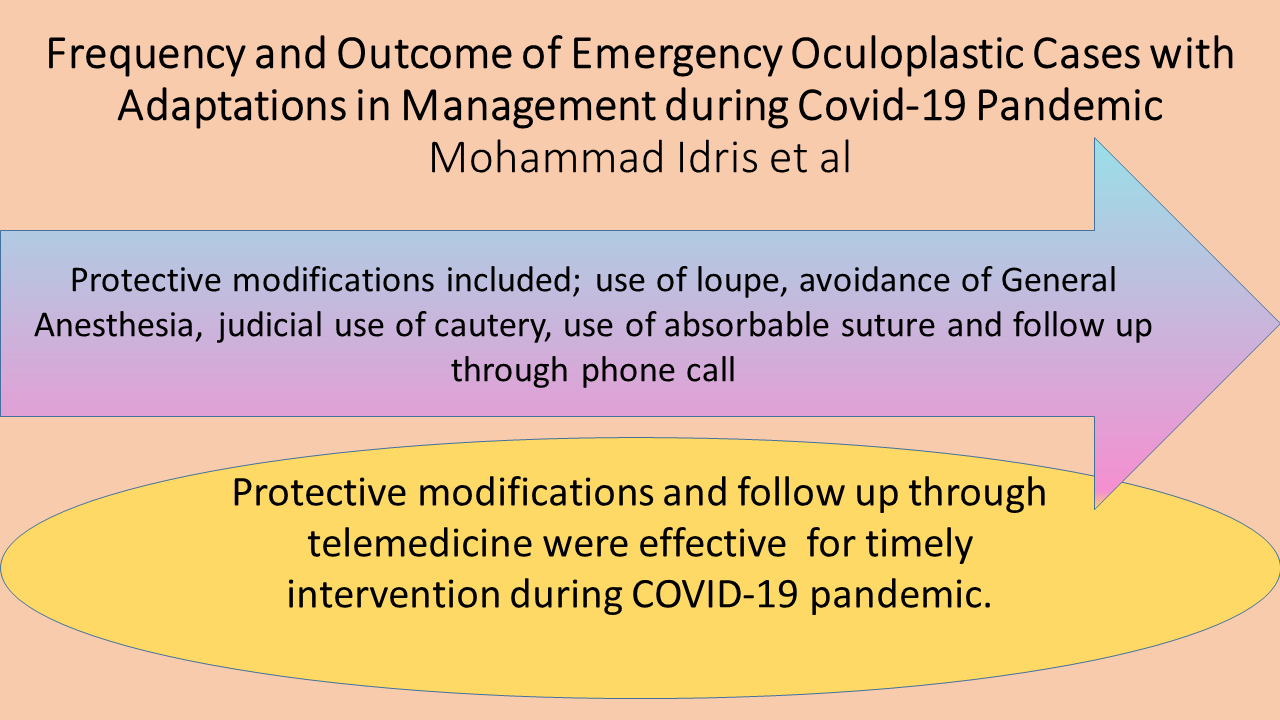 Downloads
How to Cite
1.
idris M, Hassan B, Yaqoob H, ul Alam M, Ullah H. Frequency and Outcome of Emergency Oculoplastic Cases with Adaptations in Management during Covid-19 Pandemic: Doi: 10.36351/pjo.v39i4.1485. pak J Ophthalmol [Internet]. 2023 Sep. 29 [cited 2023 Dec. 9];39(4). Available from: https://pjo.org.pk/index.php/pjo/article/view/1485
Section
Original Articles
License
Copyright (c) 2023 -
This work is licensed under a Creative Commons Attribution-NonCommercial 4.0 International License.